Real filmmakers know that details matter when it comes to setting the scene, so researching and investing in the most authentic props is essential! This is why companies likeProp Movie Money are such a helpful resource when creating films, music videos, and other video projects. Prop Movie Money is the official film industry's go-to source for prop money; seen in countless movies, TV shows, and music videos, this fake money is the most realistic and high-quality product you can find. Learn all about Prop Movie Money and how you can purchase their amazing prop money to use in your next big production!
About Prop Movie Money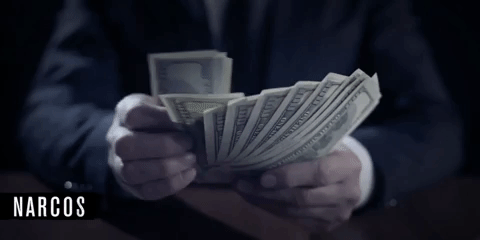 Prop Movie Money is the number one trusted source for prop money from Hollywood due to its attention to detail and high quality materials and colors. Not only do these fake bills look great in extreme close-ups (even when shooting 8K), but they're also designed for color correction so they can be adjusted in post production with no issues. Also, you're guaranteed not to get any shine or glare when filming under bright production lights when using Prop Movie Money's products. Their team of talented graphic artists can even create custom prop money designs for your project.
Where You've Seen Prop Movie Money
You've definitely seen the fake bills created by Prop Movie Money in action before! Prop Movie Money has supplied fake money tocountless movies, such as Bad Boys for Life, Spider-Man Homecoming, the John Wick movies, Hustlers, Deadpool 2, and many more. Their prop money can also be spotted in a variety of popular television shows, such as Orange is the New Black, Narcos, Empire, Ozark, and Punisher. 
How to Get Your Own Prop Movie Money
Visit the Prop Movie Moneyonline store to find everything you need for your next video project. Choose from clean or aged prop money; they also have additional props like duffel bags, briefcases, and money bags. They offer multiple different packages of varying sizes so you can find the perfect amount for your specific project.Get in touch with their team if you have questions or inquiries about any of their fake money products! You can also follow them onInstagram,Facebook, andYouTube to see what they've been working on lately. 
Check Out the CinePacks Store for More Tools to Use in Your Videos
Our team atCinePacks had a blast during our recent collaboration withProp Movie Money! If you're looking for even more amazing assets to use in your films or music videos, check out our online packs store. We offer a wide selection of video effects, animations, and video transitions for Adobe Premiere Pro, Final Cut Pro, DaVinci Resolve, and Sony Vegas. Some of our most popular products include our Super 8 Film overlays, glow animations, fire effects, lens flare effects, and cinematic LUTs. We even have numerousfree packs of video effects so you can use some of our best products without spending a dime.Contact us today if you have any questions about our products - we'd love to hear from you!